You first have to tell Phoenix which banking application you are using. To do this:
1.Obtain the bank account number and BSB number for all people or organisations that you would want to pay electronically.
2.Enter the Account and BSB numbers in the Other tab of the Card File entry for each of your payees. In addition, enter the Reference for the payments to be made. The Reference appears on the payee's bank statement and is typically the "Customer" or "Account" number that appears on the invoices you receive from your payee. See Setup Card File for additional details about the Card File. Avoid punctuation, characters and long references.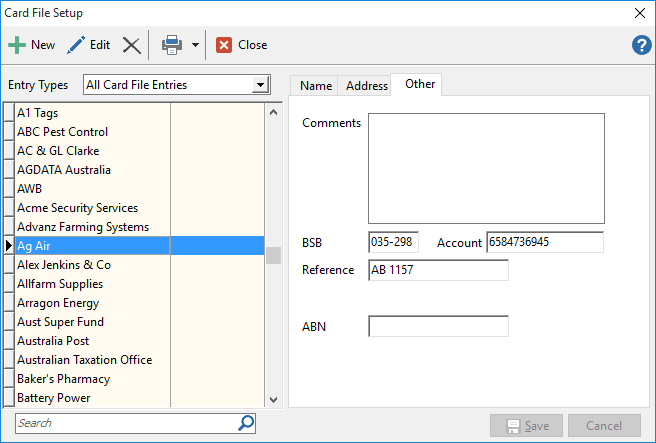 3.Check that the Account number and BSB number are correct in Account setup for the bank account(s) from which payments are to be made electronically. Avoid spaces and punctuation other than the '-' automatically inserted by Phoenix in the BSB number. Close the Card File Setup window.
4.Click the

button on the Toolbar, or select EFT Payments from the Tasks menu, and click the

button on the EFT Payments screen. Under Product Name choose whether you use Online Banking or an installed Banking Application. Select your bank from the list of currently supported banks in the list below. (If your bank isn't in the list, select Generic Bank Entry and complete the URL and Bank abbreviation fields appropriately. You can copy the URL from the Address line in your web browser by going to the login page of your bank site through your internet browser).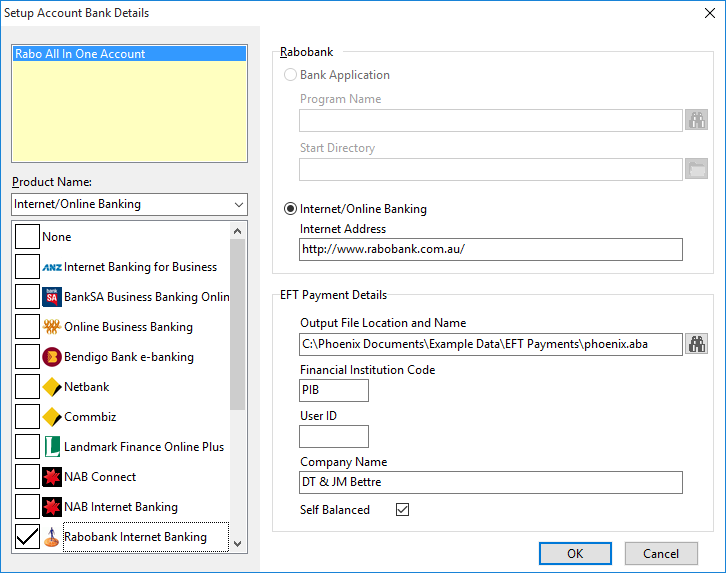 5.Phoenix populates all of the required details provided by the financial institution based on the selection that you make.
6.In the Output File Name field a default location has been entered for the payment file. This is where the payment file will be saved when it is generated and the location you will browse to when in the bank site to import it. You can change the Output File location if you choose.
7.Enter your electronic banking User ID. This is not required for all banks - only some. This is provided by your bank when you apply for electronic banking and may sometimes be referred to as an "APCA number".
8.The Name field is automatically populated from the Company Information for this data set. You can edit this field if you want a different name to appear on all payees statements.
9.Click OK to save and close the Setup window.